It all started in October 2017 with an idea to have something a bit different in our community. There wasn't any photography groups in the area. We didn't know if it would take off or not at the time. We decided we wanted the group to help reduce isolation for those living alone and give them something to look forward to by being able to go out as part of a group. Also maybe have work on display eventually giving members a sense of pride and increase confidence.
Our group started up with the help from Big Local which enabled us to buy prints and frames for display at Priory View, where we first started meeting. After a few years we were able to obtain a grant from Halton Borough Council which meant we could have prints done and attached to display boards.
This year we had our work on display at the Windmill Hill Summer Funday, where a lot of interest was shown even from young children which was good. At October's church lunch we had a display of our work with easles kindly lent to us by Rachael from Hazlehurst Studios. Rachael also showed us how to display our work so it was good picking up a few tips. We had some great comments from both events which was good as none of us in the group now had any previous experience.
Over the 5 years we have had some lovely days out and visited some very interesting places together, learning something different about the history of each place along the way. We are all retired residents in the group, some of us have disabilities. We help each other out when we can and have really bonded as a group.
When we go out we like to have lunch and a chat as well. We're looking forward to planning what we'll be doing next year.
We have currently just finished getting photos ready for our 2023 Calendar, which will be ready soon.
The cost to Windmill Hill residents is £2.50. To anyone else it will be £3.50 (please note that we are now becoming self-sufficient so we have to pay for ours as well).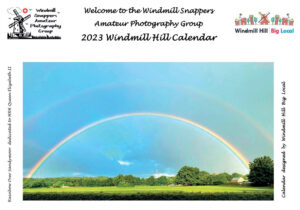 We will only be getting a limited number printed so if you would like to order a copy please contact Margaret by email at:
margaret.hicks 03 @gmail.com
Or you can text or ring Jackie on:
07982429626
Written by: Margaret Hicks (Windmill Snappers).